Last week the annual Bett Show took place at ExCel London. As always, the show floor was full of innovative EdTech products and ideas, with stimulating talks and presentations in the arenas.
This year WCBS was represented in the dedicated meeting areas for more thought-provoking one-to-one discussions, as well as placing Product Manager, Mark Maybury on stage in the Schools Theatre. The focus of his talk was admissions in independent and international schools, exploring the challenges, opportunities and resources, and looking at how WCBS can support schools with their admissions process. Mark presented alongside Emily Richards, Founder of The Stickman Consultancy, and following is an overview of their outlook on school admissions today.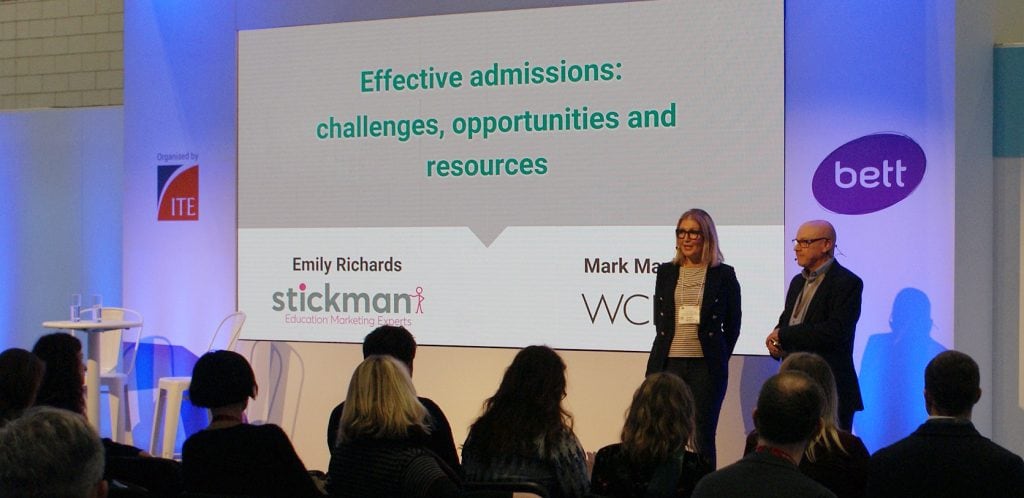 At a time of big competition for attracting pupils, and in an age of instant gratification, your admissions experience needs to impress parents through every stage of the process. It needs to create a 'WOW' moment… whether that's through outstanding customer service, innovative and bold marketing, or a super streamlined process when applying for a school place. These moments, big or small, have the potential to turn a prospective parent into an advocate, and can set a school apart from their competition.
In our fast-paced world where every second counts, how do today's parents want to deal with their busy lives? "Simply, quickly and via their preferred device, of course," says schools' marketing specialist, Emily Richards who advises senior leadership teams on admissions and marketing strategies. "It's essential to use the right channels to get your message to the right people, to ensure your timing and frequency of marketing is right so that you don't miss admissions opportunities when parents are preparing to take action," she adds.
With Emily's advice in mind, take a fresh, honest look at your admissions process and the experience you are giving prospective parents. Is it simple, quick, timely and accessible on any device? Or are you still expecting them to call to schedule a tour, to download an application form in order to fill it in and return it by email or post, and to wait for admissions staff to give them the attention they want – when what they really need is immediate information, support and response at a time of day that suits them?
We all like the personal touch, and it's important not to remove it from the admissions process, however technology allows you to get your message to the right people, at the right time, through their preferred device, so that you don't miss a single opportunity. Technology allows for automated messaging, processing and tracking, meaning that you can interact with parents in ways and at times they want to communicate – without losing that personal touch and creating more opportunities for those wow moments. By using an integrated process, you don't change, but rather, enhance your admissions approach, enabling an exceptional experience for your parents from their very first touchpoint.
If you are interested in discussing your school admissions and want to know more about the tools and resources available to support you, get in touch with WCBS or The Stickman Consultancy.