Following his previous blog update, Sales & Marketing Director Stephen Bilboe talks about the WCBS brand and new website.
In my last blog post, I mentioned that we had taken a step back to review our brand and identity as a leading EdTech supplier and even gave a sneak peek of our new website. Well, I am now pleased to announce that our new website is live!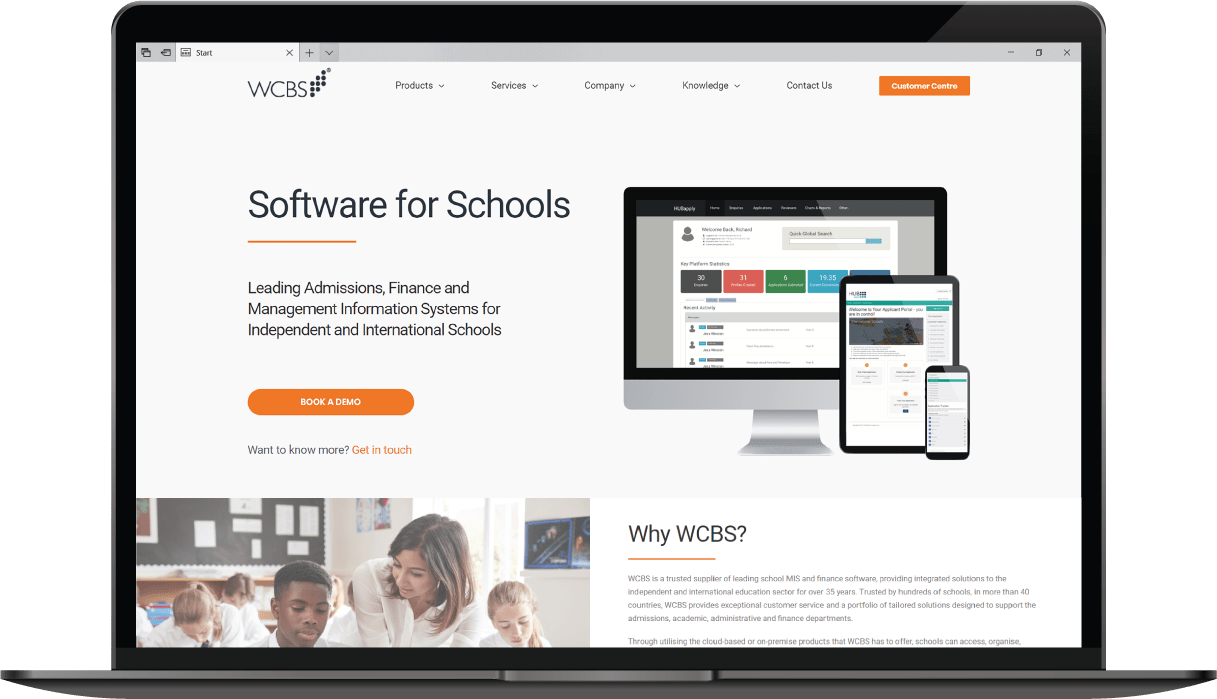 WCBS has a long and successful heritage within the Independent and International school marketplace, having been established for over 35 years, supporting 600 schools in over 40 countries. The WCBS brand is well known and any changes to this were not taken lightly, but as we evolve as a business and deliver on our next generation product suite, we felt the time was right to strip back certain elements of our brand and give it a cleaner, more contemporary look.

Autumn is a busy time for conferences with our team attending events globally, from the UK to China. Should you see WCBS at any of these events you will notice how our brand update has also resulted in some new designs to our stands. You will find WCBS at the following conferences this term:
AISAP & ECIS Admissions Conference – 10-12 October, Nice, France
FinalsiteU-London – 24-25 October, Lady Eleanor Holles School, SW London
FOBISIA Annual Leadership Conference – 8-10 November, Macao, China
If you're a WCBS customer, there is still time to book on to one of our upcoming FREE User Group Meetings which are being hosted across the UK. These events not only provide a forum for discussions on our new brand, product roadmap and company strategy, but you will also get to join helpful workshops and surgery sessions focused on our passFINANCE and 3sysACADEMIC systems. Plus, members of WCBS' Partner Programme will be attending to speak with you and show how their EdTech solutions can benefit your school. Follow the links below to book your place:
User Group Meeting, Glasgow – 31 October, The High School of Glasgow, Scotland
User Group Meeting, London – 13 November, Leonardo Hotel London Heathrow, UK
User Group Meeting, Birmingham – 14 November, Birmingham FC, St Andrews Stadium, UK
We hope you like the changes we are making and I look forward to sharing more news with you soon; this time on our next generation products and in particular our new Cloud Finance and HR solution.