Independent schools make up an important part of the education system and wider economy, contributing over £13bn annually to UK GDP, supporting 300,000+ jobs, generating over £4bn in tax revenue and saving the state £3.5bn per year through parents not taking up state school places.
Internationally, the reputation of UK independent schools is widely regarded as the best in the world, and has led to a boom in British international schools opening across the globe.  

The estimated lifetime value of a pupil is anywhere between £100k – £250k in the UK, however, the situation is still challenging, with only two thirds of schools  meeting their enrolment goals prior to Covid-19. Competition is fierce, smaller schools are closing or merging and interest in efficiency from school groups growing. This trend is only gathering pace as schools deal with the effects of the ongoing pandemic.  
Focus on a first-class admissions journey is now more imperative than ever to ensure your school continues to thrive and, in some cases, survive. By using next generation technologies, combined with great marketing and a personal touch, a full school can be achieved, conversion rates (enquiries > applications > enrolled pupils) will increase and greater revenue realised. 

*assumes avg fees of £18k per annum
A good admissions system should help communicate the school's philosophy, create a positive first impression and ultimately enable you to attract new pupils. The possible outcomes include:
Little or no paperwork
Automated communication
Real-time data
Engaged parents
Lots of enquiries
High conversion rate
A Full School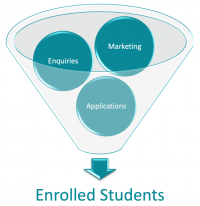 The return on investment in such a system can be seen from simply enrolling one extra pupil whose fees would cover the cost of the system for five years, and then continue to generate upwards of £100,000 of additional revenue for each extra pupil you enrol. 
Take Away:
List the touch-points along your admissions journey – everything from how you're creating awareness of your school, to how you're engaging with prospective parents. Both online and offline.  
Then ask yourself: 
Are these representing your school well? (look and feel, key messages etc.)

 

How 

easy 

is

 

it

 for a prospective parent to engage with you?

 

Are your customer needs at the centre of the planning behind your admissions journey? 

 

Are you including little thoughtful details as well as the big wow moments? 

 

Is the experience offered consistent across all touch-points?