Both Learning Management Systems (LMS) and Management Information Systems (MIS) are key systems widely used by educators across the world. The two systems have different purposes, but they also have some common features.
The EdTech world can be a minefield of acronyms. With some acronyms meaning the same thing (MIS and SIS) and others sounding similar but actually being completely different (MIS and LMS), it can often become confusing for Schools, especially International Schools who already work in multiple languages. In this article, we aim to help you understand the differences between LMS and MIS, and how the two can work together.
To understand the meaning and purpose of these solutions in schools, we need to understand the specific roles these systems play, and recognise their differences. First, let's look at what each system does.
Definition of MIS (also known as Student Information System (SIS)
A Management Information System is any school's "central system". It allows the school to manage the entirety of the data surrounding students, courses, and faculty. The functions often include (but are definitely not limited to) attendance, admissions, wellbeing, reporting, assessments, timetables, and communication.
Definition of LMS (also known as Virtual Learning Environment (VLE)
A Learning Management System is a software solution responsible for managing courses, documents (such as progress tracking and student grading), reports and providing learning materials to students, as well as analysis and feedback. An LMS creates a 'virtual space' in which students can connect with teachers (and vice versa) in a controlled environment that encourages knowledge development.
What is the difference between the two?
An MIS focusses on the administrative relationship between the school and its students.
An LMS focusses on the educational relationship between a teacher and their students.
Both LMS and MIS have some overlap in function and goals; they assist school staff in optimising decision-making, improving operational efficiency, and delivering outstanding education. However, an MIS does this for the whole school in terms of administration, whereas an LMS focusses on the delivery of education through the teachers.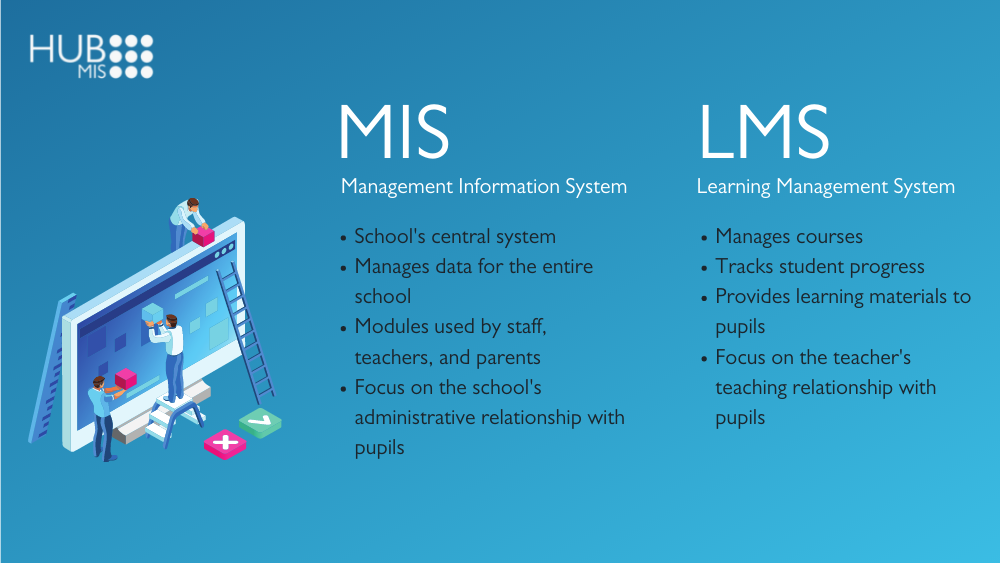 How do they integrate?
When an MIS and LMS integrate, they work to improve every corner of a school's administration and teaching delivery.
Therefore, when choosing MIS and LMS, it is important to understand how easily they can integrate with each other, to reduce rekeying and achieve more accurate data management.
HUBmis, our cloud native MIS offering, is built on read and write API, allowing you to integrate with your choice of LMS solutions.
Benefits of MIS LMS Integration
1. Avoid duplication of data entry
When properly set up, rekeying is minimised as there is no need to manually enter information from one system to another. This process can be automated, saving teachers and administrators valuable time by improving the workflow. HUBmis is built on read and write API and so data is imported and exported in both directions, saving a lot of valuable time for teachers.
2. Save time
The integration of LMS and MIS means that the time between students completing the admissions process and when they can begin their courses is reduced. Upon enrolment, their data can be directly imported into the LMS. At the same time, human error is minimised, due to the systems being linked.

3. Data is always up to date
When MIS and LMS integrate, their data can be shared instantly, making it easier to change information such as class times and student attendance. Once updated in the MIS it will be updated where appropriate in the LMS, and vice versa.
HUBmis has been built on API to allow schools to choose best of breed solutions, without the need for compromise. This means we can integrate with whichever LMS provider you may choose,
such as Kinteract, Firefly, and Frog, to name a few.
Get in touch if you would like to better understand how HUBmis can integrate with your choice of LMS.
This article was originally published on our Chinese Website, which you can read here.