The WCBS team are thrilled to have attended our first conference in-person, in more than 18 months.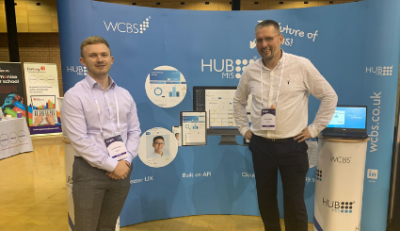 Newly appointed Sales Director John Cannon, and Sales Manager Oliver Rhodes (who was so keen to meet with the Prep School heads, he had travelled more than 260 miles to be there) attended the three-day conference, which is the largest gathering of Prep School Heads, at Bournemouth International Centre.
The new HUBmis stand stood proudly in the main conference hall, where John and Oliver met with lots of familiar faces amongst the delegates, giving demos of the cloud native solution, which has been well received by Prep Schools, and our HUBmis users.
During the event, we went Live on Instagram with Prep School Admissions gurus, and WCBS partners, The Stickman Consultancy, where we gave followers and keen delegates the latest updates on the conference so far, discussing current news in the Independent School market.
Thank you to all who stopped by and gave their amazing feedback on HUBmis, and to IAPS for having us at another thoroughly enjoyed conference.
We are pleased to be resuming our Conference schedule, and will be attending ISBA Annual Conference 2021 on 23rd-24th November at the International Convention Centre (ICC) Wales. Delegates can find the WCBS team on stand 159. See you there!