As news settled that one of our Support Team Leaders is moving into the role of Training Consultant, it seemed like a good time to talk to Mitja Horlemann about the challenges he's going to face, and how his past experiences will help him.
Mitja Horlemann: Archaeologist
I'm a trained archaeologist, having studied archaeology, historical geography and medieval history at university in Germany.
I landed a job in the State Department of Archaeology, which unknowingly at the time brought me to WCBS, because I worked in the archives undergoing the process of digitalising the archive records and liaising with private firms, to ensure that both the documentation and the actual finds were prepared in line with the Department's records so they could be imported into the databases.
I was dealing with cataloguing, photography and processing geospatial data. So what I did was kind of a customer support and data services job because sometimes I had to restructure the data so it could be imported more easily. I also worked with SQL databases and wrote scripts to amend the data, etc.
I was there for five years, then after gaining an excellent Master's degree, I was working towards my PhD, but by this time my son was born and my wife and I decided we'd like to move to the UK. She had connections with Glastonbury so we chose to make home in the area.
Mitja Horlemann: WCBS Support Consultant
Not being 100% sure how the job market for trained archaeologists is in the UK, but assuming it's about the same as in Germany, instead I applied for the support consultant role with WCBS, because my experience at the State Department meant I was well qualified for the job.
My training was internally on the support desk and then also distinct sessions with Training Consultants. I think I drove them a bit up the wall because I'm very curious and I tend to ask all the questions.
Also I had to get a professional thesaurus, because even though I had studied English, the language of accountancy and the independent schools sector both have a language of their own! I started with an Excel spreadsheet with all the abbreviations that got flung around all the time, to cope with a sentence like "I tried to send my FPS via RTI, but HMRC told me the NI is wrong!"
I remember vividly the first six weeks. I never slept so well in my life because I just came home after work and then just had dinner, fell down like a log sleeping for 10 hours and then repeat because there was just so much information to process.
My colleagues are really lovely and everybody super supportive and what I really like about support is it's a mixed bag because you never really know what the query will be when the phone rings.
Sometimes it's an admin person who says oh, I can't find the pupil in my lists. Where have they gone? So you can go into individual usage inquiry and see where they are. Or, the bursar wants to reconcile their Billing Ledger. And there you have an imbalance in goodness knows which period, and you have to start digging in the transactions to see where it went wrong, Sometimes it's the IT contact saying I want to upgrade my SQL database, can you give me a hand…
The realm of software support has to be considered sometimes, because actually it may be an accountancy question or about tax legislation so at some point we can only say, well, I can't really tell you what to put in that field. I can only tell you what it does – check with HMRC.
I think what's really benefited me at WCBS is I look for the logical and structured approach, and that rings quite well with databases, because if you know how it's structured and where things go and how they are all relating to each other then it's extremely helpful to get your head around.
The other thing is I just love helping people and getting their problem sorted, so that made support the ideal position because you actually help people achieve what they want to do. And also you have that good riddle every once in a while where something didn't go to plan!
Mitja Horlemann: WCBS Support Team Leader
I moved into the role of Team Leader after some restructuring, then we had Lockdown. This was quite helpful to bolster my experience with the amount of calls we had due to our schools needing some different functionality from our software, because of HMRC issuing legislation just to cater for furlough, and the need to refund partial school fees because of schools being closed.
Of course there were no specifications, we hadn't been here before, so we had to come up with some workarounds and tweaks. And then deal with the extra calls to help schools perform these new functions.
Mitja Horlemann: Father, Glastonbury Knight, and Forager
Outside of work I'm currently putting together the gear of a 13th century knight. And since that's not complicated enough, I'm actually building the mail armour myself. You need approximately 20,000 metal rings. I call it heavy metal knitting – and the finished garment will weigh about 16 kgs! I'm hoping to wear it at the medieval fair in Glastonbury Abbey which happens each year, plus a couple of others around the country.
I'm also a passionate forager, especially in the woods looking for mushrooms, which my children also enjoy.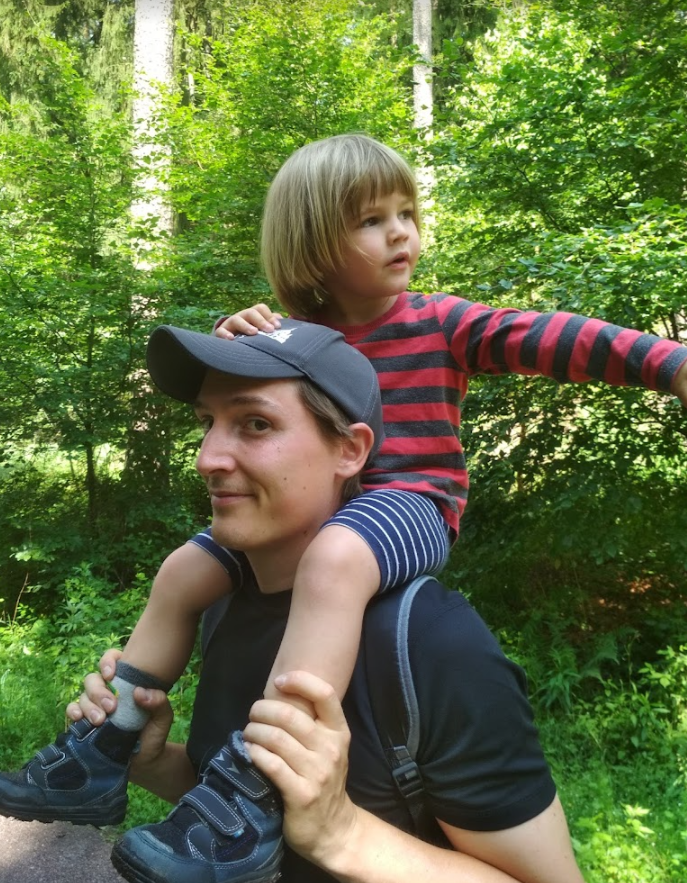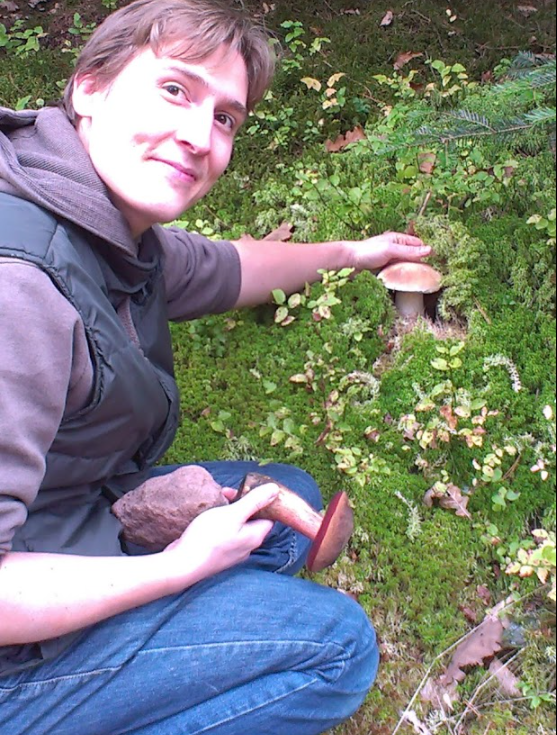 Mitja Horlemann: Training Consultant
So now, later this month I'm going to embark on my latest role as a Training Consultant. It's exciting and a bit scary, but then again, if you want to develop personally, you have to step out of your comfort zone every once in a while. I think from what I've learned so far I'm going to be alright in the new position and I can contribute to the company success in that role. When necessary, I will just fall back on what I've always done. Ask all the questions, ask for help.
I couldn't imagine a better place than this company to develop new skills because everybody is so supportive. And many of my colleagues have worked in different roles so I have seen how beneficial it is knowing how the other departments work, creating synergy between them.
And what I really like is you have a nice mix of personality here. Everybody is really professional and passionate about what they're doing, then on the other hand, a teeny bit crazy! We always have the good kind of banter for anyone to join in. And at times it's about my name because it can be a bit difficult for some people to grasp. Usually about misspelling, but I've been called Mitch, Joe and my favourite Jeff because of because of the story behind it.
I picked up the phone, gave my name, spoke to the customer awhile and then they said, well, we need to go away and check something. "Can I ask for your name again?" I said it's Mitja. And they said, "Mitja? How do you spell that – J-E-F-F?" So they heard it right, didn't they?
I hope I tackled the misunderstanding sensitively…
Mitja has worked within WCBS support for more than 3 years, during which time he has become a well respected member of the team, who is always happy to help others, be it someone internally or a customer. We know he will be a great success in his next role of Training Consultant.