Will McNeil, christened by some of his colleagues as Mr Worldwide, knows a thing or two about travelling – especially in his professional capacity.
He does, however, manage to bring an element of the unexpected to a trip, including this one, his first time overseas with our CEO Stephen Bilboe. What could possibly go wrong…?
Read on, in Will's own words…
It's always exciting to visit the Middle East, but this trip looked like it would be really special – and it didn't disappoint.
Our CEO Steve and I flew out on Wednesday, 11th May, but in the morning I had a school visit in London.
I drove down from The Midlands in rain. It was absolutely heaving it down and traffic was just awful – probably because it hadn't rained for ages, so everyone gets in their car and all the traffic just builds up..!
I called the school on my way to explain that I was heading to Dubai so I wouldn't have long with them, but luckily it only takes me about 45 mins to get the message across"
They loved HUB, and I sorted out a follow up with our Account Manager for the South East before hopping back in the car for the drive through central London, through the congestion charge zone*. There'd been an accident, so it took twice as long, eating into the 3 hours currently suggested for getting through check-in and security. It wasn't until I arrived outside Terminal 3 that I realised that I should have included LONG STAY CAR PARK in the satnav… another 10 minutes eaten whilst I sped over to the long stay car park.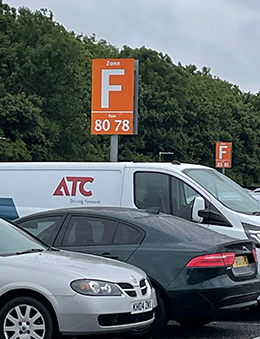 Now with only two hours before departure, and an agonising 15 minute wait for the bus, every minute feeling like an hour… I was getting very worried. "Am I really going to miss a business flight for the first time..? Of course it's the one time I fly out with our CEO..!"
I was carrying oversized baggage because we had our exhibition equipment with us for the BSME conference, and I had to wait with security whilst they took it to 'out of gauge'. Luckily I got to security and miraculously sped through in about 10 minutes. I was at the gate with 40 minutes to spare – I even had time to have a coffee and a croissant!
Admittedly the drama caused me to have maybe one glass of red wine too many on the flight, but I had been practising my bumbling British voice suitably for when we landed.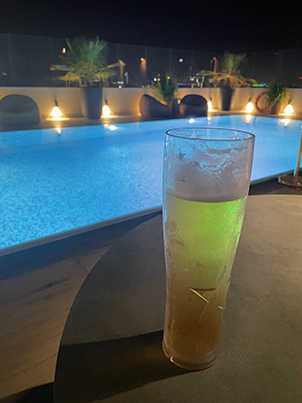 Dubai, it's all just five star hotels. All the rooms are massive and you feel like a king. They all have pools. They all have gyms (not that I used them). It's just amazing and made even better after I'd beaten the company hotel budget through spending around £50 a night for pretty much all of them (I still don't understand why I wasn't allowed to spend the remaining money I saved on room service…).
Next day we got a taxi to Ras al Khaimah to visit St Mary Private High School, our first HUB customers in the UAE, to provide a bit of implementation support and training to their staff. It was great to catch up with Jarlath and the team who are super excited to get up and running with HUB.
Booked into a different hotel back in Dubai after a long day travelling between the Emirates, I caught up on a bit of sleep, before making more school visits the following morning. We host the dinner every year prior to COBIS, where we are joined by heads from some of the best international schools across the world and I sat next to the head of Deira International School who had kindly invited us for a tour around the school on Friday afternoon. It is fantastic, a beautiful school with a huge campus. I had to take a few photos!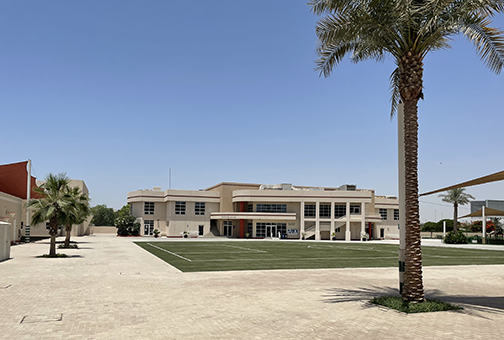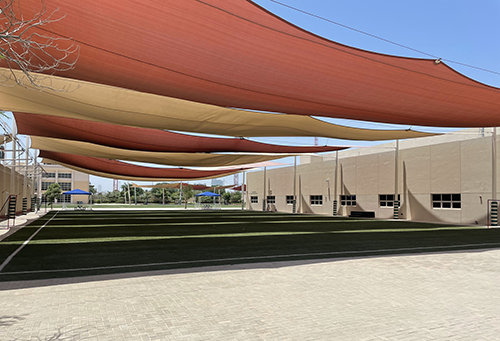 This is where my travelling experiences get even more fun, and – to be honest – a bit bizarre…
The only arrangement I hadn't booked ahead of time was the journey to Oman. You can either fly (which takes literally an hour) or you can go by road which takes about four and a half hours. I thought it would be quite nice to have a bit of a road trip and see the sights of the UAE and Oman. I'd been informed that the mountains are a must-see. Diane from Edvectus told me that there's a law in Oman preventing the construction of high rise buildings, meaning the architecture is far different to Dubai. I was looking forward to seeing the contrast.
So I booked this taxi that I arranged it via the concierge at the hotel we were staying at and gave him a nice tip to say thank you.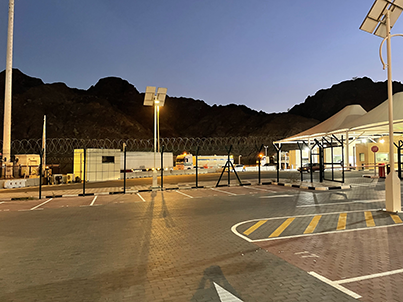 There were two taxi drivers for some reason, weirdly, I didn't really understand why, who drove us to the Oman border town called Hatta, where Steve and I show the guards our British passports. Absolutely fine for us Brits as we can get our visa on arrival. The only glitch was our exhibition equipment in a large, black rectangle holdall arousing suspicion – but rather than try to explain, Steve acted swiftly by unpacking and opening the roller banner to reveal our slogan, "Realise the potential of your admissions". Not completely sure the context was understood…
Then our taxi drivers showed their passports. Being from Pakistan, they should've applied a day in advance in order to get into Oman…Not allowed to enter Oman, nearly two hours from Dubai and 3 hours from Muscat, we were left stranded at the border with no way of getting from Hatta to Muscat.
Luckily Omani hospitality came to the rescue. We got chatting to the Border Guard. He's says, "Don't worry, I'll find you a taxi" and called up his friend who worked in THE POLICE, who picked us up and took us another half an hour towards Muscat. We then swapped cars and HIS BROTHER then drove us the rest of the way to Muscat. We spent 20 minutes in a big jeep that had about every warning light on that you can imagine, we didn't think we'd make it. Luckily we then swapped to another car which was a little more roadworthy.
For the rest of the trip the brother threw his Spotify on and we were listening to the likes of One Direction, Anne Marie, Ed Sheeran and Charlie Puth – clearly Western music is big in Oman!
Honestly, the whole day was filled with probably some of the funniest experiences I've ever had, including when the policeman stopped at this cafe and just clicked his fingers and said "Chai Tea", and these guys just brought it out to him.
Yet even more Omani custom and traditions were offered. We were invited out for dinner which we politely declined as it was getting on for 11pm at this time and we'd been travelling for around six hours.
"Mohammed," I said, when we arrived at the hotel, "I've got to take your WhatsApp number because you've been so nice to us, we'll have to catch up next time I'm in Oman".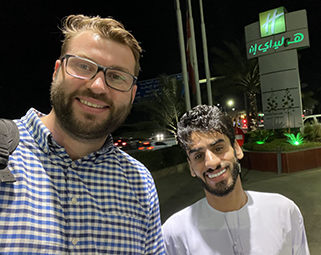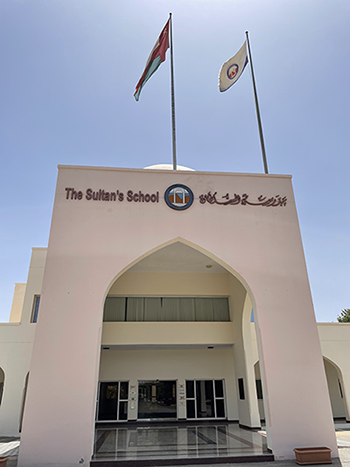 We had some time resting on Saturday, mainly around the pool, then off to Al Mouj (a residential district) where we sat outside for dinner by the marina. All very pretty.
On Sunday we visited Muscat International School, where they told us that the local schools in Muscat had developed a strong friendship through the pandemic which brought them together. They all now meet often and share experiences. We met with Nicholas, the Director, who I then met again at the British Schools in the Middle East (BSME) Conference.
Then on to another prestigious school, British School, Muscat before heading to The Sultan's School who've been customers of ours for a good few years now, and will be moving to our HUB solution for the new academic year.
And then it was sadly time to leave Oman – but we learned our lesson and didn't get a taxi this time. We flew – but not without Steve wanting to double-check the booking I made, due to it not being displayed on the departures screen for some reason…? "Look, I've made one error with transport this trip, give me a break!"
I was glad that Steve is the company golfer so I didn't have the early start (before 6am) on the day of the conference for the Annual BSME Golfing Competition. I had a nice lie in before sauntering over to the venue to put up our lovely new banners at around midday.
The BSME conference was too good, I'm quite extroverted so really enjoy being around lots of people, and as I'm in my home office most of the time it helped put a lot into perspective about HUB and how we're really making waves in the education sector with our new technology. We're ultimately providing something that can allow schools to deliver an outstanding education. We were so encouraged by school leaders that we're on to something really special with the solution suite.
It was great being around all the other BSME partners, and just being able to catch up with all of the schools that we've visited over the last seven days, with most of them at the conference.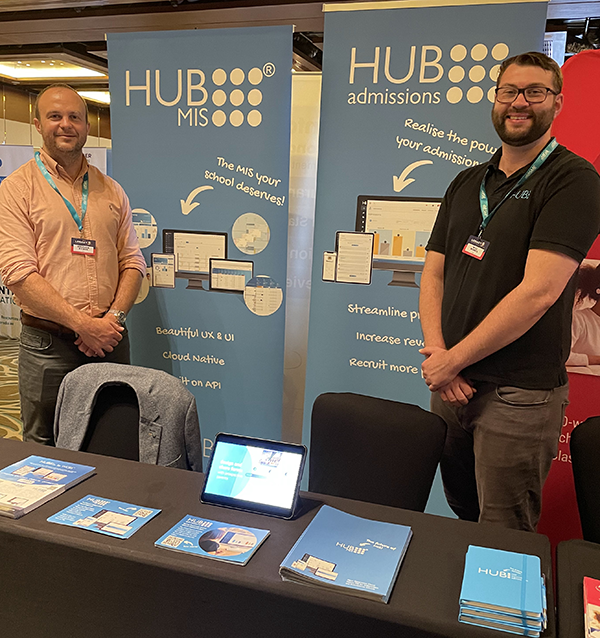 I even got to catch up with the Principal, Andrew Williams at British Overseas School in Karachi, who was super complimentary on our White Glove service at WCBS.
We're so focused on relationships in this industry, and it's so important because that's how you understand your customers' problems and are able to solve them.
On the Friday after BSME (with a couple of sore heads…) we managed to fit in some extra school visits arranged during the conference, and it looks like we're going to be providing HUBadmissions two more customers very soon!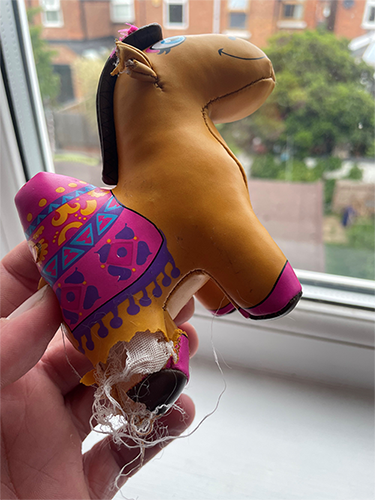 After jetting back to the UK we had a couple of days in the office as a full sales team and I tried to ingratiate myself by getting the team souvenir key rings and a big bag of chocolates, just to go somewhere towards making up for being away for so long. My dog was happy with the stuffed camel toy – he destroyed it in about five minutes!
I'll be coming out to the Middle East again in the week of the 6th June, so if anyone wants to discuss HUB and show me your fantastic school, I'd be really happy to book a meeting and give you some top travel tips!
* When I finally got home, I had a letter from TfL saying,

"Oh, by the way, you owe us £80 for congestion charging, which would have been £15.00 if you hadn't forgotten to pay at the time".

I wonder if I can stick that on expenses…