After gaining my English language BA at Cardiff University, I got the standard question, so you want to be a teacher? No, I didn't (I didn't feel capable of shaping my own future, let alone shaping the minds of future generations), so I had to really think about what I wanted to do. I undertook a Postgraduate Diploma in International Public Relations & Global Communications Management, and then finally put that English BA to good use when I started work at a robotics company…in the marketing department. There, I took ownership of the digital channels, marketing to both B to B and B to C, which gave me the experience to move on to a digital marketing agency, and then to my current role, as Marketing Manager, at WCBS.
It's been a learning curve, not just about our software, also about our customers in fee paying schools around the world, and especially at a really exciting time for us as we introduce our brand new product suite to the market.
1. Let the CRM make analysing your school's admissions data easy
The launch of our first cloud native solution, HUBmis, was a game changing moment, and once HUBadmissions was ready to promote, it felt so natural to use as marketers because we can understand it from the marketing perspective, it's what we do on a day to day basis. Seeing the platform for the first time was a real 'wow' moment. It's a marketer's dream, it has a level of analytics that any marketer would want within their CRM, and it allows us to really find the balance between data and personalisation.
As marketers we always need to find ways to work smarter, not harder. We love the creativity. We love personalising things, but we also have to find time for the analytical side. Being creative creatures and not business analysts, we want to focus on the 'building relationships' part of the role.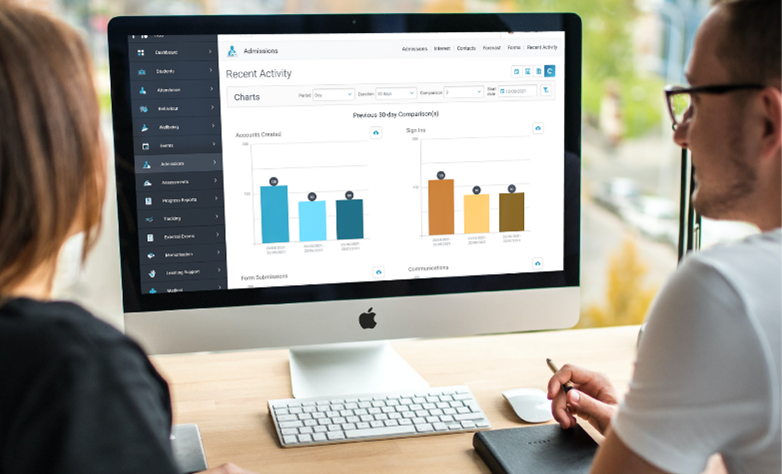 2. Get the best value out of your school's marketing budget
Having a CRM that captures all the data you need to be able to, say, produce reports on where your leads are coming from straight away, instead of bumbling around in Excel, really does let you work smarter, not harder. You enjoy your role more. You save time on the admin and really save money on your budget. You have evidence of which strategies are working best.
Finding out that, just because 100 people attended an event, doesn't mean it's been a great success until you can see what happens after. The "conversion rate", whether that's how many attendees went on to purchase our products, or whether the cost of that open day is outweighed by the cost of digital marketing when comparing results. Running an open day, you're taking staff out for the day to do tours, you're catering, you're creating printed material, everything should be costed. It's not easy without the right tools, to work out the cost-per-follow up that leads to an enrolment compared to what a digital campaign has produced.
You can now make pivoting strategy decisions based on data, you're not just guessing. For instance, next year, take half of the open day budget and put it into digital marketing and predict with more confidence that you can fill those empty spaces, increase revenue…and then all of a sudden the admission system has paid for itself and ROI is through the roof!
As a marketing team, we really understand what a powerful admissions CRM can do. A success story can start long before the first enquiry, it starts when you're talking on a day to day basis, at every single touch point, every communication, parents talking to other parents, that's when it all starts. When you've got methods, especially automated processes to track what's happening, you're not just focusing on the endpoint – you need those little and often personalised communications to keep up engagement and interest.
3. Get to the right audience for your fee-paying school
By understanding more about our prospects earlier, and by them understanding more about you, you're limiting the "wrong" prospects making it further in the admissions process, wasting your precious time and money. As marketers, we do everyone a favour when we make sure prospective customers are coming to us for the right reasons, and we know that we can if we deliver far more engaged and qualified admissions leads, they're more likely to enrol. You might have a few more extra drop offs at the start, but that's going to save you and them time down the line, creating a more valuable pipeline.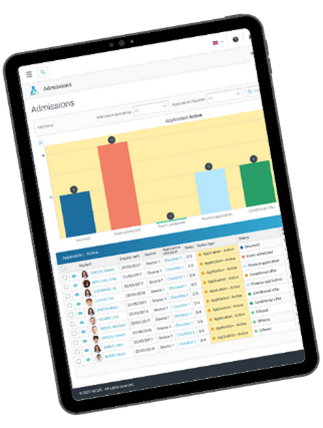 4. Automation allows for personalisation in your school's marketing strategy
Finding the balance between data and creativity is just as important as finding the balance between personalisation and automation. If you can save time by streamlining processes because automation allows you to do that, you can give more personalised contact. You can set up transactional emails, maybe after they've submitted a particular form, or you can see it's been a couple of days since they started completing a form so to keep the ball rolling you can send them a personalised message. Getting as much information as possible in the early days helps you to customise these messages, making them relevant, leading to that good experience. You are more likely to get referrals, and gain the power of advocates, and this all builds from every single touch point that your prospective parents have had being positive and personalised and engaging.
5. Make marketing easy for all the contact staff in your independent school
We talk about marketers wearing a lot of hats, but perhaps sometimes we almost need to flip it and think about everyone wearing a small marketer's hat.
And what I mean by that is, although you've got marketers in your school, you've also got admissions and enrolment people, head teachers, admin staff, and you need a way of communicating your message to them too so that they can be considerate about the experience they are providing – negatives are remembered more than positives.
Pre-set personalised communications enable you to make sure that people who may not consider themselves as marketers can come across in the correct way because they get the right information. I can see the endless possibilities in HUBadmissions because as a marketer I know what I want to be able to do to achieve our goals – and I can convey this through the marketing of our solutions.
6. Check off your CRM wish list for your Admissions and Marketing teams
I wish I had the facility that there is in HUBadmissions for translation, something like that would be amazing. I imagine if we could talk not in someone's second language, but in their first! And then on top of that, something that I'd love is the possibility of a free trial of software and being able to actually get your hands on it prior to signing on the dotted line and going live because it just really removes any risk. It means that when you're managing your budget, all of a sudden not only can you see exactly what you're going to get before you hand over any of your budget, you can calculate where the ROI is going to come from. You can see how it will help recruit more pupils, increase revenue and then work out within a year if I recruit XYZ pupils, then I'll have paid off the software.
7. Prevent late drop offs by staying engaged with prospective parents
We need to consider that between application, enrolment and the child starting school could be a considerable amount of time, so the CRM should cater for automated personalised communication to keep the parents engaged and all the while gathering more information. One of the worst things is they drop out towards the end when you think they are a certainty for enrolment, just because of a lack of clarity. And so that's why you need to feel confident you identify the correct target audience, and a powerful CRM will help you do that, by helping you to keep those people engaged. In a way you're narrowing your scopes. You can really focus and engage with and nurture those leads or enquiries in the best possible way you can and you're able to personalise your contact.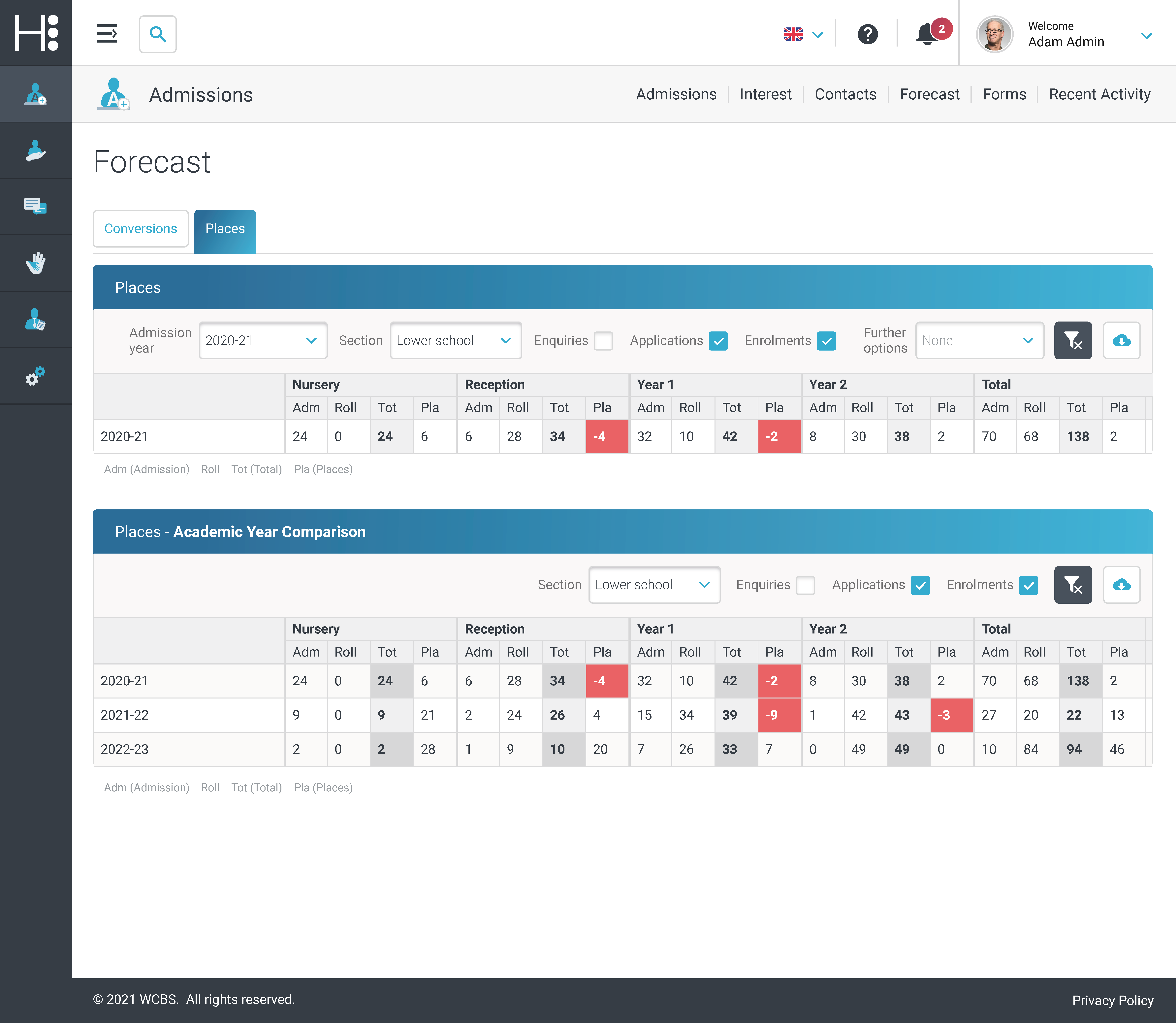 8. The best time to market your independent school, is when it's full
Conversely, oversubscribed schools need some way of gathering as much data to really know their market, to ensure they continue to invest in targeting the right audience and have readily available forecasts, and even budget for expansion. Having a powerful system in place means that, if there is a downturn, it can be spotted early, they have the information to show what worked well, was getting the most value for money and what will give the highest ROI. They're not just shooting arrows with no targets. Easily accessing good data is crucial, and can be shared with appropriate staff in understandable reports, not horrible hard to read spreadsheets.
9. Benefit from partnerships with Thought Leaders in the Independent School Marketing space
Along with our years of experience with fee paying schools, we've teamed up with excellent partners to offer schools advice in key areas.
Marketing specialists, the Stickman Consultancy are absolutely brilliant, especially working with prep schools. For some, they have all of the data already, but they need help analysing it for marketing purposes.
Kampus24 are experts on personalisation helping schools to get messaging just right. These are invaluable partnerships with other thought leaders within the educational marketing industry, with the common goal of making sure that schools are marketing in the best way possible, personalising those engagements and increasing enrolment to fill places within their school.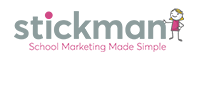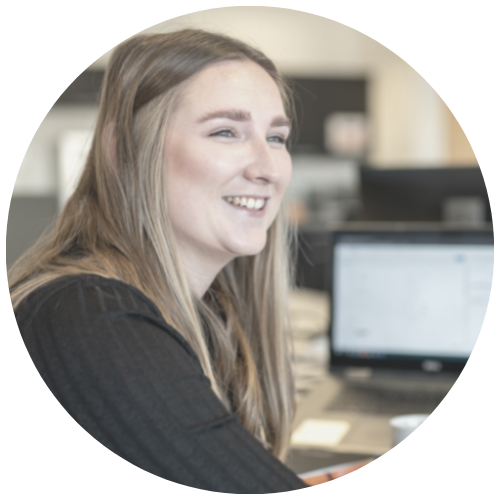 Emily Turner, Marketing Manager
Outside of work I'm still a bit of a marketing nerd and I'm always looking at new marketing tactics, so give me a shout if you want a list of some great marketing newsletters and podcasts. Come the weekend I'm one of two people – either in a city catching up with friends from University, or sat in my garden (wine in hand) with my wonderful partner and crazy Labrador puppy.